Top Tips for Organized Gift Giving
Take the stress out of gift giving. Stop running around every time you can't find the scissors or tape. Create a system that will simplify your life.
Please note that this article contains affiliate links. You can read my full disclosure at the bottom of the page.
Favorite Organizing Containers
First of all, I had to share a favorite organizing container of . I use these for everything and couldn't live without them. They work in SO many spaces. Next, we'll go into the steps of organizing your gift giving.

Sale
Decide Who You're Giving Gifts to
Although most of us would like to, most of us can't give gifts to everyone we know for every occasion. Create a list of everyone you're giving gifts to. Writing it down will help ensure that you don't forget anyone.
How to decide what to gift someone
A simple way to do this is to keep a list throughout the year on the notes section of your phone. This way, any time kids, family members or friends mention that they want or need something, write it on the list.
During Christmas pull up your list and see what they still want (and what is affordable). This is also great when Birthdays or anything comes up during the year and someone asks what to get your kids.
How many gifts should you get each person?
There's no specific number that you need to strive towards. One is always enough, but sometimes it's fun to do a theme gift with several small items.
How to budget for gifts
Figure out how much you are able to spend on Christmas, Birthdays, and other holidays or events this year and how much you have for each person. Write it down and stick to your budget. 
Purchasing gifts
Plan ahead and try to buy as much as you can ahead of time. This will take a lot of stress off during the holidays. 
How you can save money on gifts
When you do purchase gifts online, use apps such as Rakuten so that you'll earn back a percentage of what you spend.
You can also stretch your dollar by purchasing gift cards during Black Friday deals and then giving them as gifts OR using them yourself to purchase gifts.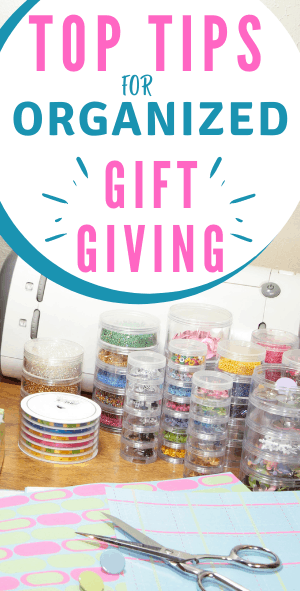 Creating a gift station
A gift station can be a large tote or a space in a closet where you keep gifts that you find throughout the year. You'll usually find things on clearance and add them to your gift station. This way, any time a Birthday or unexpected event comes up you can shop your gift station and don't have to run to the store.
Organizing a wrapping station
If you have a specific spot in your home that you can keep organized for wrapping presents, that's great. If you're like me and have a small space, you will need to be a little more creative.
Design a storage system that works for you

Organize all of your supplies

Label everything

Keep wrapping supplies together in one spot 
Top wrapping paper organizers
You will want to store your wrapping paper in some kind of organizer so that it's protected and doesn't get ruined. A container will also keep it all together so that you can easily find it when needed.

Wrapping supplies organizers
You will also want to keep wrapping supplies together in one spot. You can place these in container all together so that you're not searching your home each time you need something. You will want to collect supplies such as: scissors, tape, ribbon, bows, gift bags, tissue paper, etc.

Christmas wrapping ideas
For Christmas, wrap presents for each person in the same wrapping paper. This helps so that if presents get mixed up before tags are on, it's easy to spot whose are whose.

For a fun surprise, you can always leave a small cutout shape of each pattern wrapping paper (or even wrap stocking gifts in it) and place it in the child's stocking You won't have to worry about tags and it will be a fun surprise for them to find out which gifts are theirs.
How to make sure you always have cards/tags ready
One way to save money on cards is to purchase them in bulk ahead of time. You can usually save money and get better cards this way. 
Another way to simplify, especially when tagging several gifts at once, is to write names on the whole sheet of sticky tags before you pull them off, so they're all ready to go.

Free downloadable gift tags
Where to hide your Christmas gifts
Do your best to find the most inconspicuous place in your home to hide your gifts. If your kids know your usual hiding spots, you may need to resort to threatening them to get rid of one gift every time they peek.
Where to store Christmas Gifts?
Before Christmas, I usually use my mostly empty Christmas decor containers for gifts. Inside each box is a bag that I fill with stocking stuffers so that they're separated for each person and ready to fill the stockings. 
At work

At a friends house

In a storage unit

Closet

Trunk

Under your bed

Garage

In a box on a shelf

Big black garbage bags

Large storage containers

Suitcase

Small gifts in your underwear or sock drawer

Behind storage that's already in your home

In the attic

In empty Christmas containers
How to organize purchases?
Create a binder, folder or box where you can store your receipts. If you're really organized you can even create a digital file where you scan your receipts and link them to a spreadsheet.
How to keep track of the gifts you're hiding
The most important tip of all is to remember that if you purchase gifts ahead of time, you should make sure to keep track of where you hide them. One way to do this is to take your list of gifts and write your hiding spot next to each one.
Related gift and organization posts
How to Organize Christmas Decor
Best Organization Ideas
What are your Christmas organization ideas?  What works for you and your family? Please share in the comments below.