What is a flocked Christmas tree?
Flocked trees are the Christmas trees that you see with the fake snow on them that looks like they've been sitting out in a blizzard. Flocking is usually white, but you'll also find it in many other colors. Flocking consists of tiny fibers that are attached to the Christmas tree to create the texture that gives it that natural snow covered look.
How much does an artificial flocked tree cost?
 You can find flocked Christmas trees to fit any budget. On the cheaper side, will be the trees that are $100 or less. The mid range trees are approximately $100-$200.  Or you can find the higher quality trees for over $200 and up. If cost isn't an issue, you can find luxury trees for several thousands of dollars.
Gorgeous flocked Christmas trees for any budget
[amazon bestseller="amazing flocked Christmas tree" items="5″]
Where to find beautiful flocked Christmas trees?
How can you find an amazing, but affordable flocked tree?
You can look local and there are beautiful real flocked trees, but if you're looking for convenience, you may want to check out all of the many online options.
What colors of flocking look best on a Christmas tree?
White is very common in flocked trees, but you'll find them in multiple colors including: Red, purple, pink, orange, etc.
To determine what is best for you, find trees in the colors you're looking for to determine your preferences. You should also think about the ornaments and lights you'll be putting on your tree to figure out which will create the look you prefer.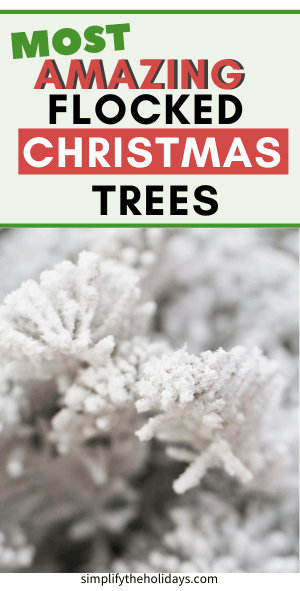 Are flocked Christmas trees messy?
Flocked Christmas trees can be messy, but  are not as messy as they historically were. You should definitely expect some shedding and you will want to prepare your area and have a vacuum nearby. 
Pre-lit lights are also a good idea and should help prevent some of the mess that you'll get when hanging lights. 
Do flocked artificial trees shed?
Some trees shed more than others.  It is a good idea to look at reviews for specific trees for other customer's opinions on the tree you're looking at. 
For more detailed tips on preventing shedding: How to Set Up a Flocked Christmas Tree to Minimize Flock Shedding
How long do flocked Christmas trees last?
The flocking on real trees can seal in the moisture and help them last longer than unflocked trees, but of course they will still only last one season.
Flocked artificial trees life expectancy will vary, but a tree that is taken care of may last for 6-10 years.  Look for a warranty on your tree to get a general idea and make sure that you have a good storage solution that works for your tree and your space.
How do you take care of a fake Christmas tree?
Find a good storage solution that works for your tree and your space.

Make sure your tree is covered and won't be disturbed when not in use.

Check any pre lit lights before and after the season.

Clean your tree each year. You can vacuum up the dust or gently wash with dish soap and water in a spray bottle (make sure lights are unplugged).

Keep away from sunlight and humidity as much as possible.

Take care while putting it up, decorating it, and taking it down.

Keep pets and young children away from the tree as much as possible.
Is Christmas tree flocking toxic to pets?
Materials vary and most flocking used nowadays is not toxic, but it can be. You will want to check the materials you are using beforehand and make sure that young children and pets stay away from anything toxic. Although, even if it's not toxic, the material still wouldn't be consumable.
How do you remove flocking from a fake Christmas tree?
Lay a tarp or large sheet of plastic underneath your workspace to make clean-up easier.

Use a spray bottle to wet down the tree and then wipe the flocking off with a paper towel or cloth. 

Have a shop vac ready to easily vacuum up flocking from the tree or the area.
Related Christmas Ideas
Downloadable Hot Cocoa Bomb Gift Tags
Fabulous flocked Christmas trees
Depending on your budget, there is an array of flocked trees to choose from, but you really can make any tree beautiful. Take some time to choose just the right tree and decorations for you.