What is a flocked Christmas tree?
Flocked trees are the Christmas trees that you see with the fake snow on them that looks like they've been sitting out in a blizzard. Flocking is usually white, but you'll also find it in many other colors. Flocking consists of tiny fibers that are attached to the Christmas tree to create the texture that gives it that natural snow covered look.
How much does an artificial flocked tree cost?
 You can find flocked Christmas trees to fit any budget. On the cheaper side, will be the trees that are $100 or less. The mid range trees are approximately $100-$200.  Or you can find the higher quality trees for over $200 and up. If cost isn't an issue, you can find luxury trees for several thousands of dollars.
Gorgeous flocked Christmas trees for any budget
Bestseller No. 1
Puleo International Pre-Lit Potted Flocked Arctic Fir Pencil Artifical Artificial Christmas Tree, Green, 301-PTO9760-60LW120
6 FOOT SNOW FLOCKED POTTED TREE: Features elegant flocked pine needles that stimulate a realistic feel to deliver a touch of snowy ambiance even if a white Christmas is not on the forecast
PRE-ATTACHED WARM WHITE LIGHTS: Decorated with 120 warm white LED lights that illuminate the home with a colorful festive glow, eliminating the time and effort of hanging lights on your tree
STURDY POTTED STAND: Tree sits in an attractive pot for your convenience, offering easy placement anywhere in the home
FULL AND NATURAL APPEARANCE: Made up of 1325 branch tips, gorgeous life-like branches, and a classic conical shape for an authentic wintry forest impression
SIMPLE ASSEMBLY: Set up is quick and easy - simply take the tree out of the box, connect the 2 tree sections together, adjust the branches, and plug in the lights to get decorating right away
Bestseller No. 2
AMERIQUE 691322309737 7 FEET Premium Artificial Full Body Shape Christmas Tree with Metal Stand, Heavily Flocked Snow, Unlit, 7', Snowy
Dimension: heavily flocked, 7' tall full body shaped, unlit, one of the most beloved Christmas trees;
Strong, durable construction;
Hinged branches for easy setup, includes sturdy metal tree stand;
Features natural look branch tip technology for remarkable realism;
Perfect for living room, hotel, office or wherever you want to bring season's greetings
SaleBestseller No. 3
AMERIQUE 7 FEET Premium Artificial 16 Layer Heavily Flocked Snowy Christmas Tree, Hinged Construction with Metal Stand, 7', White and Green
Dimension: 7 feet tall 16 layer shaped, with multi-colored and warm white lights, eight modes, one of the most beloved Christmas trees;
Authentic look and feel, heavily flocked, extremely attractive and unique;
Strong, durable construction, hinged branches for easy setup, includes sturdy metal tree stand;
Perfect for living room, hotel, office or wherever you want to make a difference;
Merry Christmas!
Bestseller No. 4
Goplus 7.5ft Artificial Snow Flocked Christmas Tree, Unlit Pencil Hinged Pine Tree with Metal Stand, Slim Xmas Snowy Tree for Indoor and Outdoor Use
🎄Snow Flocked Pencil Christmas Tree: Crafted with 641 branch tips, this 7.5ft snow flocked Christmas tree is leafy and elegant. It will add a unique wintry feel to any setting. With its slim pencil design, this artificial Xmas tree is space-saving and perfect for display in corners or rooms with limited space.
🎄Premium PVC Needles: The leaves of this slim Christmas tree are made of high-quality PVC material. Combining premium material and exquisite craftsmanship, these snow flocked leaves are not only lifelike but also of strong adhesion. Thus, they are not easy to fall off and fade, ensuring long term use.
🎄Sturdy Metal Stand: This pencil Xmas tree features an X-shaped iron stand that provides strong support. Compared with other cheap plastic bases, the metal stand is more stable and breakage-resistant, keeping it standing upright for years to come. Besides, the metal stand is foldable to facilitate storage.
🎄Easy to Fluff and Assemble: All hinged construction makes the artificial tree easy to fluff and set up, saving you a lot of time and effort. In addition, this Christmas tree can be divided into 2 sections and placed in a storage bag, allowing you to store it for future reuse conveniently.
🎄Eye-Catching Addition for Any Place: Snow flocked leaves create a unique wintry feel, making this 7.5 ft Christmas tree an eye-catching addition for any place. You can either put it at home to add Christmas atmosphere and celebrate Christmas with family members pleasantly, or put it in shops to attract the attention of customers.
Bestseller No. 5
Puleo International 6.5 Foot Pre-Lit Flocked Bennington Fir Artificial Christmas Tree with 350 UL Listed Clear Lights
ELEGANT ARTIFICIAL CHRISTMAS TREE: Features flocked green pine needles and an elegant shape that perfectly capture the ambiance of the wintry forests in your home
LIFELIKE DETAILS: Realistic pine branches bring nature's beauty inside your home without the mess
HASSLE-FREE ASSEMBLY: Comes with a sturdy metal base and sections that easily insert into one another for convenient assembly
CONVENIENT SIZE: Measures 90" tall and 46" in diameter and weighs 29 lbs. allowing for easy placement and versatile Christmas decorating anywhere in your home
FAMILY OWNED COMPANY: Christmas is all about family, and so is Puleo International. As the Oldest Name for Christmas Trees in America, Puleo is a 4th generation family-owned manufacturer and distributor of high quality, hand-crafted artificial Christmas trees and home décor. With a long and rich history dedicated to producing beautifully designed artificial Christmas trees and home decor items, the Puleo family and its dedicated team of employees continues to deliver exceptional products of the highest quality and craftsmanship. This has enabled us to serve families like yours for more than 65 years and counting.
Where to find beautiful flocked Christmas trees?
How can you find an amazing, but affordable flocked tree?
You can look local and there are beautiful real flocked trees, but if you're looking for convenience, you may want to check out all of the many online options.
What colors of flocking look best on a Christmas tree?
White is very common in flocked trees, but you'll find them in multiple colors including: Red, purple, pink, orange, etc.
To determine what is best for you, find trees in the colors you're looking for to determine your preferences. You should also think about the ornaments and lights you'll be putting on your tree to figure out which will create the look you prefer.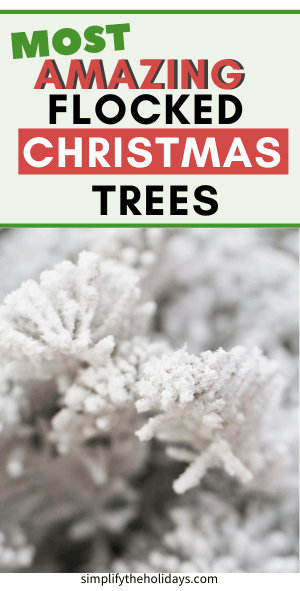 Are flocked Christmas trees messy?
Flocked Christmas trees can be messy, but  are not as messy as they historically were. You should definitely expect some shedding and you will want to prepare your area and have a vacuum nearby. 
Pre-lit lights are also a good idea and should help prevent some of the mess that you'll get when hanging lights. 
Do flocked artificial trees shed?
Some trees shed more than others.  It is a good idea to look at reviews for specific trees for other customer's opinions on the tree you're looking at. 
For more detailed tips on preventing shedding: How to Set Up a Flocked Christmas Tree to Minimize Flock Shedding
How long do flocked Christmas trees last?
The flocking on real trees can seal in the moisture and help them last longer than unflocked trees, but of course they will still only last one season.
Flocked artificial trees life expectancy will vary, but a tree that is taken care of may last for 6-10 years.  Look for a warranty on your tree to get a general idea and make sure that you have a good storage solution that works for your tree and your space.
How do you take care of a fake Christmas tree?
Find a good storage solution that works for your tree and your space.

Make sure your tree is covered and won't be disturbed when not in use.

Check any pre lit lights before and after the season.

Clean your tree each year. You can vacuum up the dust or gently wash with dish soap and water in a spray bottle (make sure lights are unplugged).

Keep away from sunlight and humidity as much as possible.

Take care while putting it up, decorating it, and taking it down.

Keep pets and young children away from the tree as much as possible.
Is Christmas tree flocking toxic to pets?
Materials vary and most flocking used nowadays is not toxic, but it can be. You will want to check the materials you are using beforehand and make sure that young children and pets stay away from anything toxic. Although, even if it's not toxic, the material still wouldn't be consumable.
How do you remove flocking from a fake Christmas tree?
Lay a tarp or large sheet of plastic underneath your workspace to make clean-up easier.

Use a spray bottle to wet down the tree and then wipe the flocking off with a paper towel or cloth. 

Have a shop vac ready to easily vacuum up flocking from the tree or the area.
Related Christmas Ideas
Downloadable Hot Cocoa Bomb Gift Tags
Fabulous flocked Christmas trees
Depending on your budget, there is an array of flocked trees to choose from, but you really can make any tree beautiful. Take some time to choose just the right tree and decorations for you.