Hot Cocoa Bombs
Have you seen the wildly popular hot cocoa bombs that are popping up everywhere? Whether you want to learn more about them, or you're just here to print out the free printable hot cocoa bomb tags, you're in the right place! We especially love the White Chocolate Peppermint Bombs
Hot cocoa bombs are a sweet treat and a science experiment all in one.
Please note that this article contains affiliate links.  You can read my full disclosure at the bottom of the page.
What is a hot chocolate bomb?
Hot cocoa bombs or hot chocolate bombs are chocolate shells filled with hot chocolate mix that you place in a mug. When you pour the hot milk or water over the bomb, the chocolate melts and reveals the cocoa and marshmallows and other flavors hidden inside.
Where can I buy hot cocoa bombs?
Etsy
Etsy has several shops that will ship hot cocoa bombs to you.
Amazon
There are a few hot cocoa bombs you can buy on Amazon. Although, I've noticed they go pretty quickly.
Costco?
There have been hot cocoa bomb sightings at Costco. Although, I have yet to find them. And believe me, I have looked online and at my local warehouses. @Costcohotfinds
Local bakery or chocolate shop
Call around to your local bakeries or chocolate shops. I was surprised that after calling several, I could only find one in my area that was making them. But it's worth a try. Hopefully you'll have better luck than me.
Local Marketplace
There are many people selling hot chocolate bombs from their homes. One place to find them is FB marketplace, but I would make sure that anyone you buy from home is following health guidelines.
How much do hot chocolate bombs cost?
Hot chocolate bombs vary in price, but in general, they can range from $3.00 each and up. Sometimes if you buy several you will get a discounted rate. Although, as demand goes up (especially during the holidays), the prices are going up also.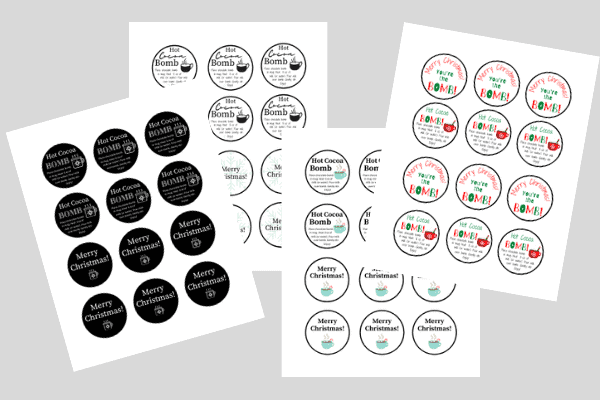 Free printable hot cocoa bomb gift tag
If you bought or made your own hot cocoa bombs and need a tag, I have a few different hot chocolate bomb labels for you to choose from and print out.
You can choose one to print out. Or you can print both of each design out and glue them together for a 2-sided tag. Click on the image you prefer below, download, and print!
What are hot cocoa bomb flavors?
I have listed several flavor ideas here, but the sky's the limit. You can make yours any flavor you prefer. Think about your favorite hot chocolate and start there.
White chocolate
Milk Chocolate
Dark Chocolate
Marshmallow
Peppermint
Hazelnut
Vanilla
White chocolate peppermint
Pumpkin spice
Cookies & cream
Andes mint
Cinnamon
Smores
Mexican hot chocolate
Peanut Butter
Egg Nog
Coconut
Horchata
Salted Caramel
Nutella
Chocolate Raspberry/Orange/Strawberry
How do you make a hot chocolate bomb?
Check out this Hot Chocolate bomb tutorial.
Hot Cocoa bomb making supplies
Why do you want Hot Cocoa bombs?
As if it's not obvious how amazing these are, you'll want to try these trending bombs at least once. They're delicious while providing a few minutes of entertainment while you watch them explode with flavor.
You may be interested in other Christmas printables
Baby it's cold outside & Let it snow gift tags
Fancy sparkling cider gift tag
All about hot cocoa bombs
In conclusion, hot cocoa bombs are the bomb. Hot chocolate bombs are a fun sweet hot drink that is also magical when watching it dissolve to see the fun inside. They also make an amazingly popular gift that anyone on your list will love.