Wishing You a Sparkling New Year Gift Tags
If you're looking for the perfect gift for neighbors, friends, or coworkers, check out these printable tags.  They're simple and just the right price- FREE!
Please note that this article contains affiliate links.  You can read my full disclosure at the bottom of the page.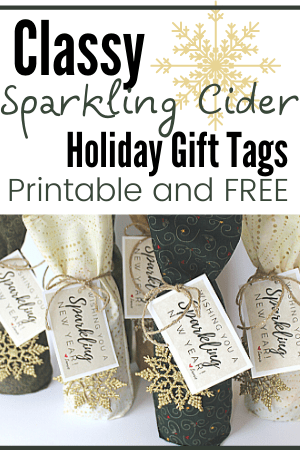 Instructions
It's so simple! All you need to do is download the gift tags, print, cut out, and glue onto another paper (optional). You can either buy or make your own bags or just attach the gift tag to the Sparkling Cider bottle with twine or a cute ribbon.
Simple sparkling cider gift
Look for deals on sparkling cider and keep it extremely inexpensive. I found mine on sale at Costco around Christmas. I also made the bags with leftover material and so I really didn't need to buy much. I did buy the gold snowflake ornaments, but had some leftover for my tree.
Make sure you always look at the supplies you have before buying anything new.
Download your FREE printable gift tags here:
Wishing You a Sparkling New Year gift tag
More ideas for other holiday gift printables:
Twas the Night Before Christmas Gift
Let us know how your gift tags turn out! Happy Holidays!