Thanksgiving Candy Turkeys
These DIY Thanksgiving turkey candy table topper bags are the perfect no-bake idea to add to any holiday event. Perfect favors for family, friends, neighbors, students, etc.
A Thanksgiving family tradition
My mom has been making these Turkey table toppers for years. She got the idea from my Grandma. I can't remember a Thanksgiving growing up that we haven't had these next to each place setting.  Kids and adults love them!
Please note that this article contains affiliate links.  You can read my full disclosure at the bottom of the page.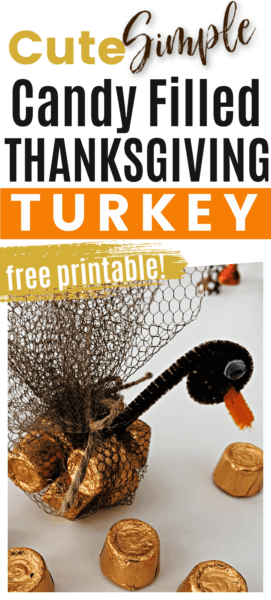 Candy turkey's are a must have each year
The last few years we have been trying out other ideas, but I still think of these M&M turkeys when I think of Thanksgiving.  They're perfect to put on the table next to each place setting or to pile in a basket to give away after dinner.  I hope you will share your Thanksgiving traditions in the comments below!
9 1/2″ square or circle of brown tulle
6″ ribbon, glue gun or other glue (for eyes)
1/4 c. small candies (M&Ms, Reeses Pieces, Skittles, Candy Corn, etc.)
You can also add about 1/2″ red pip cleaner for a wattle hanging off of the turkey beak. (optional)
Candy Turkey place setting Instructions:
cut the Tulle into 9 1/2″ squares (or circles)
cut brown pipe cleaner in half and roll it up for the turkey head
approx. 1″ orange pipe cleaner for beak, fold in half around outside edge of brown pipe cleaner (see picture). Can also add small piece of red pipe cleaner around beak for turkey wattle (optional).
glue googly eyes on to brown pipe cleaner (optional).  When we make 50 or more, we don't always worry about the eyes.  (they're still cute without them)
fill brown tulle with candy (about 1/4 c.), pull edges together, and tie together with ribbon to make turkey body
push turkey head into the turkey body
Can you substitute the M&M's for other candy?
We always use M&M's, but you can also use:
Skittles
Reeses Pieces
Or any other type of small candy
If you're concerned about germs (COVID), you can also find individually wrapped candy like:
Hershey's Kisses
Rolos
Werther's
Download your free PDF Supply sheet & Instructions:
Click here for your candy turkey diy instructions
Check out more diy posts here:
Holly Jolly Christmas tag printables
12 Days of Christmas gift idea + printables
Or this must have Thanksgiving fun..
Thanksgiving Day Activity Book for the kids