Thanksgiving Day Activity Book
How do you celebrate your Thanksgiving? Is it just your family? Or do you get together with several members of your extended family?
Whether you only have a few of your own kids or a home filled with children, keeping them occupied while you're busy with Thanksgiving prep is key!
Please note that this article contains affiliate links.  You can read my full disclosure at the bottom of the page.
Entertainment for impatient kids
This is where this activity book comes in. It's the perfect entertainment for impatient kids. The best part of all is that this activity book is completely free for you to download.
I only ask that it be used for personal use only- and please share this link with others who may be interested!
Prepare your kid tables for Thanksgiving
Print one out for each kid in the family and you're set. Throw some crayons, markers, or colored pencils on the table or dress it up a bit and find a cute jar tied with a ribbon.
Or if you're concerned about spreading germs, put together individual sets of crayons for each kid. They are sure to keep each other busy long enough for you to get the food on the table.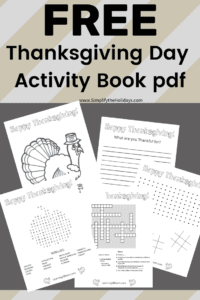 Get Your Free Thanksgiving Activity Book HERE
Download your fun Thanksgiving coloring and activity packet here! Print it out, staple it together, put it on the table and you're set!
Coloring/Activity Book Includes:
This activity book includes:
1 Cover page to draw a family picture
1 Turkey coloring page
1 Thanksgiving crossword puzzle
1 pumpkin wordsearch
1 dot game/tic tac toe game page
1 "I am Thankful for…" page
I hope this Thanksgiving activity booklet helps keep the kids occupied at your house while you're busy preparing.
You also won't want to miss these darling diy Thanksgiving Candy Turkeys! They're the perfect extra fun touch for your Thanksgiving table.
I would love to see you share your ideas for keeping the kids busy on Thanksgiving Day in the comments below! Have a Happy Thanksgiving!