Thanksgiving to go
Have you thought about checking into having your Thanksgiving dinner to go this year?
This year has NOT been like any other. Countless families will find that the holidays will look much different. Many of us who will end up preparing their first (whole) Thanksgiving meal on their own this year.
Are you feeling overwhelmed this year?
It's not uncommon these days to feel completely overwhelmed. If you're like me, you may be debating whether or not you should cheat a little bit this year.
Please note that this article contains affiliate links.  You can read my full disclosure at the bottom of the page.
Covid Thanksgiving
If you're having the same feelings and not sure if you want to make everything yourself, but things aren't going to work out to be with family, check out these amazing places that will actually prep the food for you!
All you need to do is pick up the food and heat everything up when you're ready. You can always choose your favorite homemade dishes to add to the pre-bought meals.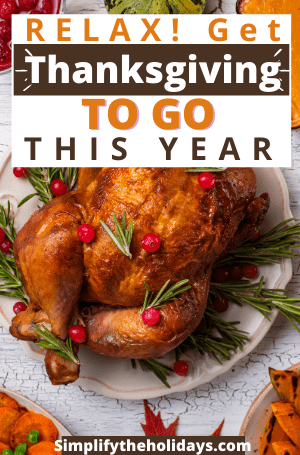 Heat and Eat Thanksgiving Meals
Most of these locations are offering Thanksgiving dinner as a take and go service. While some locations may actually be open to dine in. Check each for availability and order as soon as possible. Several are selling out quickly.
Simplify Thanksgiving this year
I honestly think we can all use a break this year. So, if cooking isn't your favorite thing to do, you might want to check out these restaurants:
Thanksgiving Pie, Rolls & other Desserts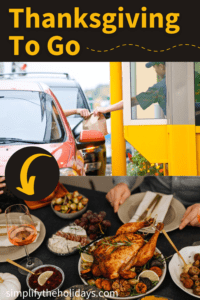 Don't forget the Thanksgiving fun
Check out this easy candy turkey diy craft that you can make for your tables. Or the free printable Thanksgiving activity books.
What will your Thanksgiving look like this year?
I hope this list helps and good luck with your own Thanksgiving. Please share below your plans for this year: Are you making everything from scratch? Meeting with family and having a potluck style meal? Spending Thanksgiving alone? Or letting a restaurant or someone else do it for you?