How to choose the best gifts for your sister-in-law
Whether she's your sister by birth or by choice, what are you going to gift your sister-in-law this year? Check out this list of thoughtful gifts that will make your bonus sister feel loved.
Please note that this article may contain affiliate links. You can read my full disclosure at the bottom of the page.
A favorite thoughtful gift idea
Listen to her during your daily conversation and notice when she mentions something she wants. That's the best way to really get her exactly what she desires.

How to pick a gift when you're not too close with your sister in law?
Think about any gifts or hobbies that she enjoys and buy her something related. Another option is to give an activity gift. Find something thoughtful that you can do together to get to know each other better.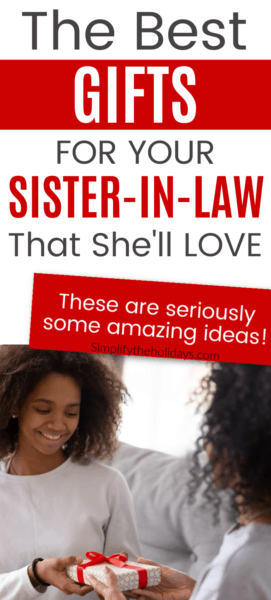 How to choose a gift for a sister-in-law who's like your best friend?
To make her feel loved, try to find a gift that is related to her interests or even an inside joke between the two of you. Or find something that shows you care by personalizing a gift.
Guide to gift ideas for your favorite sister-in-law
One of a kind Jewelry
Unique Candles
Gifts for Women, Scented Candles Gifts Set for Women/Mom, 4 Pack Aromatherapy Candles for Home Scented, 120H Burning, Stress Relief Candle Set for Birthday, Christmas, Thanksgiving, Mother's Day
🎍Candle-Set: The scented candles gift set includes 4 packs of different scents: lavender, lemon, Mediterranean fig, and fresh spring aloha orchid scents. Each scented candle gives off a peaceful and pleasant scent, lighting candles for home scented wherever you need it, scented-candles can calm the mind after a tiring day!
Frames or Prints
Throw or Blanket
Sale
Girls Trip
Splurge for a girls trip with your bonus sister through Get Away Today.
Event Tickets
Buy tickets to a local play, musical or concert. Start a tradition and go each year as a way to have fun and connect.  Pair the tickets with a cute ticket holder journal and it will be the perfect gift.

Subscriptions 
Give the gift of a subscription. One of my favorites is Fab Fit Fun. She'll love the makeup, skin care, jewelry or other gifts included and can even customize it to her preference.
Related posts about gifts for women
What to get for the woman who says she wants nothing
Best gifts for your daughter in law
What is a good gift for a sister-in-law?
Overall, you'll want to find something that's heartfelt and will show her just how much you really care about her. What gifts have been a hit with your sister-in-law?