Inexpensive Christmas Gifts for Women
I can't be the only one that has the hardest time trying to figure out what to give women in my life for Christmas! Do you have that problem too? I really want to find the perfect gift for anyone on my list, but it feels impossible.
Once I do figure out what they might want, I worry about whether or not they already have it. Or it's WAY too expensive and not something that works for me to purchase at the time.
If you feel the same way, check out the following ideas for inexpensive gifts that just may be the perfect item for the women on your gift list this year.
Please note that this article contains affiliate links. You can read my full disclosure at the bottom of the page.
Baskets:
The great thing about pulling things together in a basket is that you can choose any theme or just put together everything that the person receiving the gift loves. Or if they have the same taste as you, make a basket of YOUR favorite things to share with them.
One winter basket idea is to put together lip balm, body scrub, lotion, or other self-care items. Remember to look for baskets on clearance or even at the dollar store throughout the year to keep your costs down.
Cute Jewelry
More basket giving ideas here!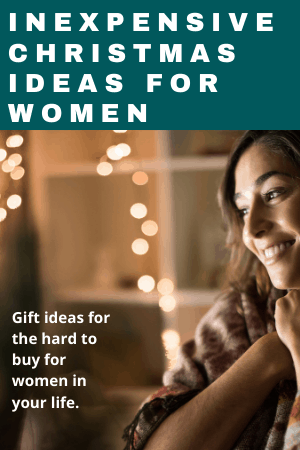 Framed Christmas Pictures of kids or families:
Buy cute picture frames. Find a picture that they love or even a picture that you took of their family at a recent event and frame it for them.

Candles
Personalized Calendar:
Make a calendar with family pictures on each month and personalize with family birthdays, school and work schedules, etc. You can often find discount codes through Groupon, Living Social or other sites that will make the calendar a very inexpensive gift.
Books or a Journal
Put together a kit of school or art supplies. Make sure you buy them early so that you get the back to school deals. Put everything in a cute bag, box or basket for a simple gift.

Plants and/or Pots
Plants are always a fun gift that you can give anyone. You can find the perfect flower, houseplant or even succulents, which are very popular right now.
Check out these upcycled vases for an amazing gift idea!
Share your ideas!
I would love to see your ideas! Share your favorite inexpensive gifts to receive or give in the comments below!  You can also check out Gifts for Teen Girls  or Ideas for Giving During the Holidays!